While many online diamond retailers focus on generic diamond jewelry and average quality diamonds, Diamond Source of Virginia specializes in finding world-class diamonds for clients who are seeking both beauty and value.
The cutters who supply our diamonds are the same cutters who provide diamonds to the luxury jewelry stores frequented by the rich and famous. Those stores take the same diamonds put them in a designer mounting, often using the same designers we use, and then stamp their logo on the mounting so they can double or triple our prices. Ironically, the diamonds we sell often have better cut and quality than those in stores where they use the name to sell the diamond rather than the beauty and value.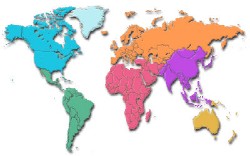 Our clients enjoy the benefits of our worldwide search for the best diamonds meeting their requirements and especially enjoy the low prices we are able to provide with our low overhead.
Here are some examples of the types of world-class diamonds we have sold. If you are looking for the best diamond in terms of beauty and value, give us a call today and tell us what you are looking for. It will be one of the best phone calls you will ever make.
---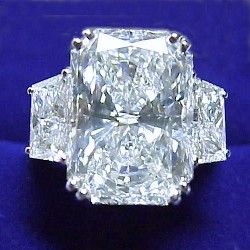 This stunning 7.46 carat radiant cut diamond ring with 1.82 total carat weight of brilliant cut trapezoids is but one of the many beautiful three stone rings we have provided clients. The brilliant cut trapezoid is a wonderful complement to the beauty of the radiant cut diamond.
---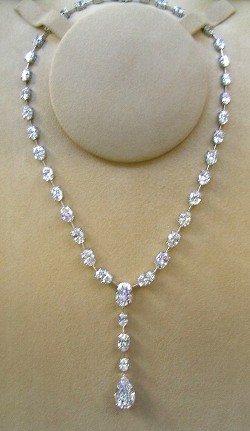 This is the type of world-class necklace that one would expect to see at the famous auction houses, on the red carpet worn by a celebrity, or in the showcases of the top international jewelers. It has 41 graduated ovals brilliant cut diamonds (52.21 total carat weight, D/E color and at least SI1 clarity) and one pear shaped diamond (10.23 carat weight, D color, SI1 clarity) that are prong-set in custom platinum basket-style necklace mounting. We are proud that Diamond Source of Virginia could provide our client with this stunning necklace with high quality, exquisite beauty, and at a fraction of what a brand name luxury jeweler would charge.
---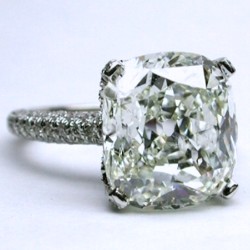 One of the largest diamonds we have sold is the 10.08 carat cushion cut diamond set in a platinum mounting with pave-set diamonds. Since we specialize in hard to find diamonds, we get many requests for for the cushion cut which is one of the older shapes that has become very popular again in recent years.
---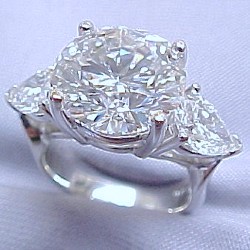 This beautiful 6.01 carat round brilliant diamond has F color and VS2 clarity. A pair of matched pear brilliant diamonds side stones with 1.80 total carat weight make this one exceptional engagement ring for a special couple. This was the first of many exceptional diamond gifts presented by one of our international clients including the bracelet below.
---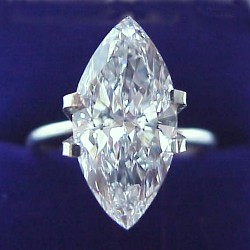 Some diamonds are exceptional for their size but this breathtaking 3.24 carat marquise cut diamond has size and quality. With D color and Internally Flawless clarity, this is truly a world-class diamond that we sold loose to be set in a beautiful ring for a special anniversary.
---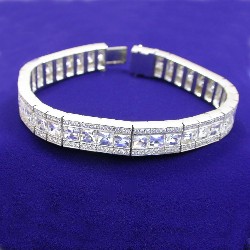 When our client called and asked for a world-class bracelet, we knew where to find one that was blazing with sparkle. This 22.95 total carat weight bracelet features Blaze Cut diamonds bordered with pave set diamonds in a design by Bez Ambar. The craftsmanship is exceptional and the patented Blaze Cut diamonds live up to their name.
---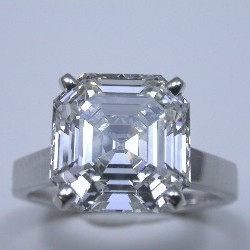 Asscher diamonds have a classic beauty and this 5.27 carat Asscher cut diamond is gorgeous. The simplicity of the Asscher is complimented by the classic platinum mounting. The Asscher cut diamond, often called the square emerald cut, has cut-corners and was designed in 1902 by the Asscher Diamond Company. The Asscher cut was designed to draw the beholders eye deep into the diamond and this beautiful ring was no exception.
---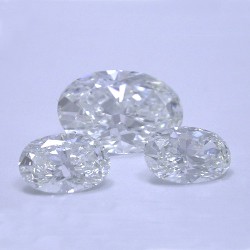 We sold these three beautiful oval brilliant diamonds for use in a special anniversary ring. The 4.19 carat center oval is one of the prettiest ovals we have ever seen with a brilliant facet pattern from tip to tip. This is due in no small part to the exceptional cut including Excellent ratings for polish and symmetry. The 2.33 total carat weight of oval side diamonds will make a beautiful finger full of diamonds.
---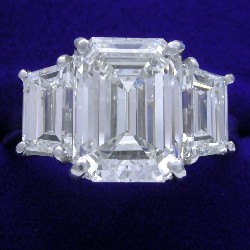 This breathtaking ring highlights three exceptional step-cut diamonds. The gorgeous 4.30 carat emerald cut diamond has a 1.35 ratio and is flanked by a pair of matching step-cut trapezoids having 2.03 total carat weight. The custom mounting puts the focus on the diamonds with its classic lines that let the trapezoids hug the center emerald cut diamond.
---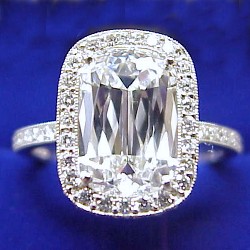 This beautiful 2.62 carat Ashoka diamond ring with pave-set diamonds around the center stone and on the shank, went to an excited lady who had never seen this particular shape before. We shipped them the loose Ashoka so the couple could see the diamond first and then we had William Goldberg Company, patent owners of the Ashoka, design the mounting.
---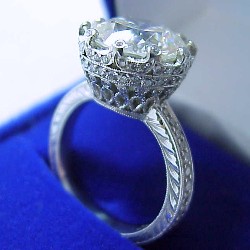 Some mountings are exceptional in the way they create a statement on the finger. This is the case for this regal 5.05 carat round brilliant diamond set in a mounting designed by Rahaminov Diamonds, Inc. in Los Angeles. The mounting is highlighted by small diamonds incorporated in the intricate design and even includes tiny diamonds set on the tip of each of the ten prongs.
---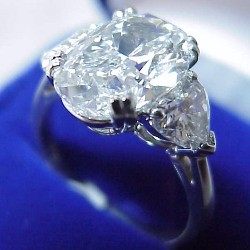 This 3.02 carat oval diamond ring is unique because of the 0.98 total carat weight heart shaped side diamonds. For the heart lover, this ring is a constant reminder of the love behind his gift.
---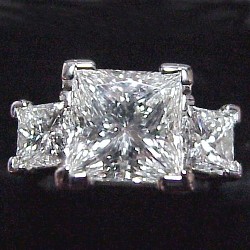 Sometimes what makes a diamond ring special is where it was presented. This beautiful 3.03 carat princess cut diamond ring with 1.41 total carat weight of side princess diamonds was presented in a proposal in the Rose Garden at the White House in Washington, DC. Part of the fun of finding special diamonds for clients is getting to hear about the proposals and the impression made by the ring.
---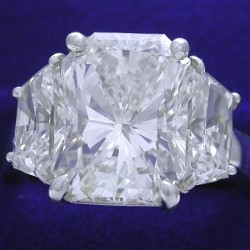 Here is another beautiful example of a radiant cut diamond ring with trapezoid side stones. The 4.02 carat radiant cut diamond is accentuated by the matched brilliant trapezoids with 1.40 total carat weight. This has become one of the more popular rings we sell, because we are able to find gorgeous radiants with no bow tie and trapezoids with exceptional brilliance.
---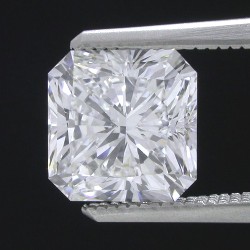 While most radiant cut diamonds are slightly rectangular, we frequently get requests for square radiants. This 3.27 carat square radiant demonstrates the brilliance and sparkle that makes this shape a popular square alternative to the princess cut. Since only about one in twenty radiant cut diamonds is close to square shape, they are not as easy to find but beautiful diamonds like this are worth the effort.
---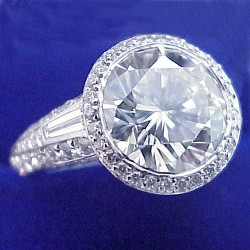 Some designer mountings turn a classic round brilliant diamond into a work of art. That is the case with this 3.25 carat round brilliant diamond ring with a Bez Ambar designer platinum mounting with 0.16 total carat weight of tapered baguette diamonds on the side and 1.38 total carat weight of pave set round diamonds that surround the diamond with a knife edge style and on the shank.
---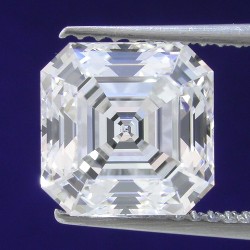 While not the biggest diamond in carat weight, this 1.57 carat Royal Asscher diamond is stunning. The facet pattern produces a mesmerizing "hall of mirrors" effect that is the hallmark of the Royal Asscher. The Royal Asscher Cut retains the small table, high crown and deep pavilion of the original Asscher but has wider corners and an extra row of facets, for a total of seventy-four. The effect is a series of endless reflection patterns seen through the top of the stone.
---

Some rings are designed to make a statement and this 5.00 carat princess cut diamond with 2.0 total carat weight of side triangular brilliant diamonds is no exception. The triangular shape is but one of many beautiful shaped side stones that can enhance a princess cut center diamond.
---